Maintaining Your K&N Filter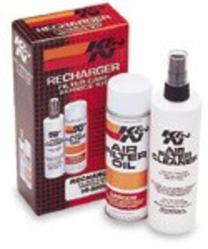 K&N Filter Cleaning Kit
Part No. 99 – 5000
The K&N Filter that comes with your Clean-Aire Computer Enclosure is, without question, one of the best filters on the market. Properly maintained, it will last for years, even in the worst environments.
Allow your filter to get dirty. There is no need to clean it too early, as the dirt actually absorbs the oil and becomes part of the filter. The filter at right was taken out of an enclosure in the shipping department of a carbide manufacturer. Though it looks completely clogged, it was still providing high air flow and good filtration. Below are the proper steps for cleaning these filters..
First, always follow the safety instructions on the K&N Filter Cleaner bottle shown above. The cleaning fluid and the oil are biodegradable, so you can clean your filter in the sink. The K&N Filter Cleaning Kit is available from us or your local auto parts store.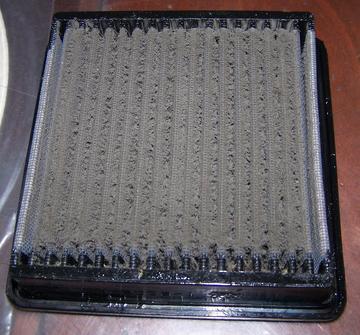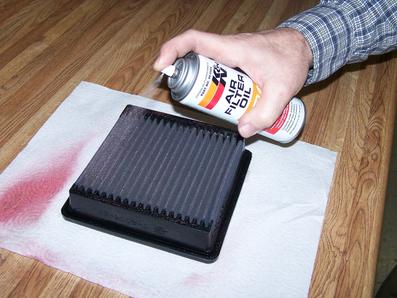 Spray both sides of the filter with the K&N Air Filter Cleaner until it is saturated. Allow the cleaning fluid to soak into the filter for about 10 minutes, making sure the cleaner does not dry.
Rinse the filter with cool water, always rinsing from the back to the front. As you can see from the photo, the dirt will be flushed out of the filter, so continue rinsing until the water is clear. If the filter still appears to be dirty, spray it again, let it soak, and then rinse it one more time.
Dry the filter by gently shaking off any excess water and setting it on a paper towel or other surface so that it air dries. This can take some time, so don't rush it. The filter needs to be completely dry before you oil it. DO NOT use compressed air or blow dryers, or any other method, other than air drying to dry your filter, as this will damage the filter.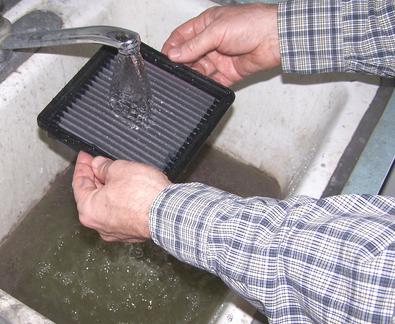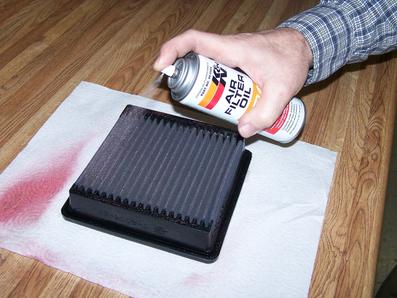 Oil your filter using the K&N Air Filter Oil that comes in the Filter Cleaning Kit. Spray the front side of the filter only, and apply an even amount of oil across the crown of each pleat. Allow the filter to absorb the oil for 20 minutes before reinstalling it in your Clean-Aire Computer Enclosure. Treat this filter gently, and it will last for up to 25 cleanings. You may choose pick up a spare filter to swap out with the dirty filter so you don't have to shut down your PC or Server when cleaning the filter.